Software testing is no longer an isolated process and goes hand in hand with design and development. Delivering high-quality software is possible only if the entire team of developers, marketers, Quality Assurance engineers, and others collaborate and work together. Conducting testing simultaneously alongside software development helps find and fix bugs faster, reduces development costs, and improves performance. Simply put, continuous testing sets you apart from other software development company, enabling you to deliver quality software on time and gaining the credibility of stakeholders and, eventually, customers.
Software testing is all about analyzing the software and ensuring that it functions what is expected to do. Additionally, testing is also a validation process to verify that the software meets all the requirements. Software testing, in general, is an umbrella term that involves various methodologies, strategies, tricks, etc. The blog will discuss software testing, its types, methodologies, and the pros and cons of each method in detail.
What is Software Testing Methodology?
Software testing methodologies involve applying specifically designed strategies, approaches, and processes to test the software application. Today, software applications demand advanced technologies, programming languages, and numerous integrations and are expected to run on multiple platforms and various devices. Thus, just like the development process getting complex, the testing methodologies must also be robust to ensure the software application is up to the mark in all the features and functionalities. Hence, following one testing methodology for software applications won't work. Software testing follows various methods, approaches, and practices to ensure quality and secure software products.
Differences between testing methodologies and types of software testing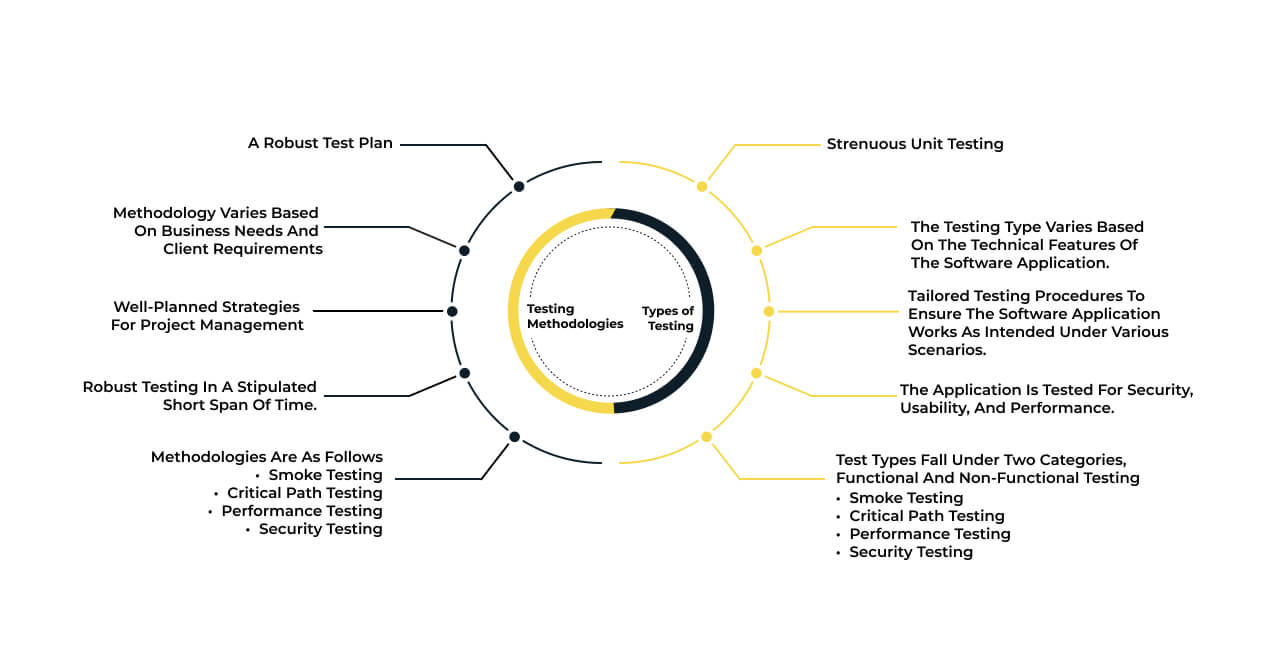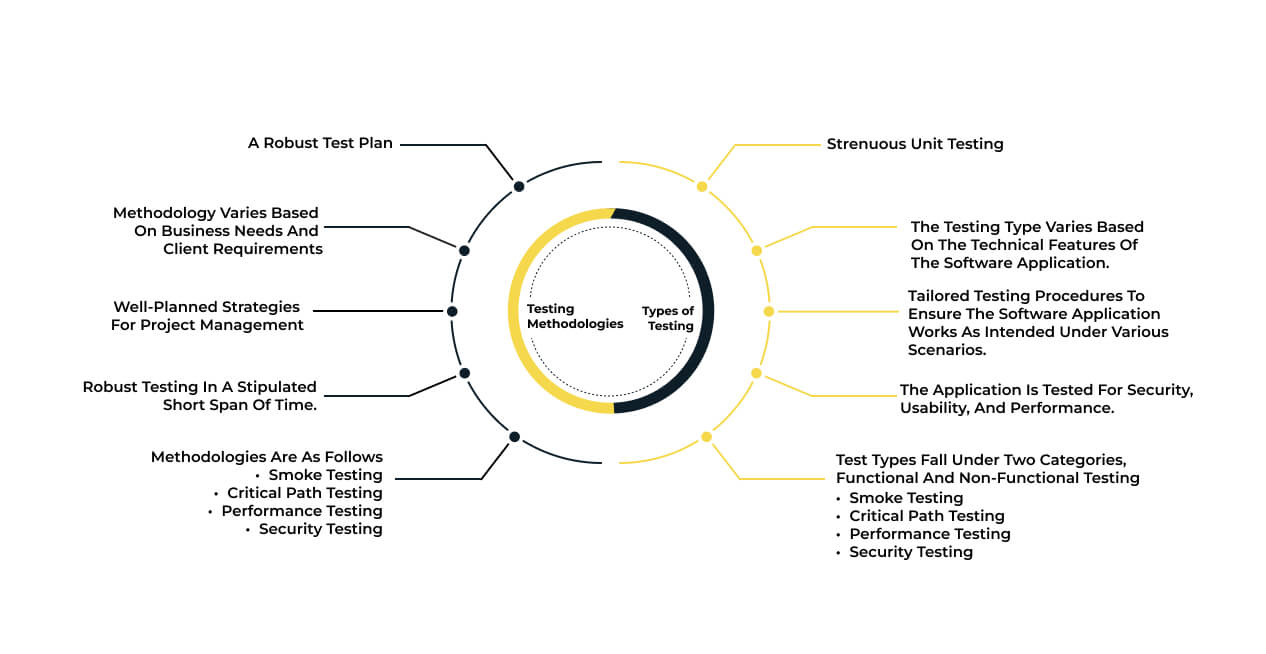 Software testing methodologies are about testing the software and ensuring it meets all the business requirements and matches customer expectations. Each methodology is carried out to ensure the application functions as per predefined requirements. Software testing methodologies vary from one firm to another depending on the organization, team size, infrastructure, stakeholders, etc. However, the general rule is to deliver quality software within the stipulated time after thorough testing.
On the other hand, there are various types of software testing to test the technical side of the application and make sure the application works as intended.
As the above image illustrates, the two significant testing components include functional and non-functional testing. Functional testing is all about testing the system against functional requirements and specifications and ensuring they are met. Non-functional testing verifies non-functional requirements, i.e., the system's behavior. Often the non-functional tests cover the system's performance, security, and usability.
Testing is getting more and more complex with complicated software applications. Outsourcing it to a third-party product testing service provider will ensure a secure, stable, and reliable software product.
Popular Software Testing Methodologies
1. Waterfall Methodology
Waterfall software testing involves testing the product once the entire software development is complete. The waterfall testing approach follows the SDLC (Software Development Life Cycle), a systematic vertical like requirements gathering, design, implementation, verification, and maintenance. Ideally, in waterfall methodology, the next phase begins only when the previous step is complete.
Testing Approach
In the waterfall approach, the first phase is requirements gathering. It involves gathering all the requirements, deriving testing objectives, and drafting documents. After the requirement analysis, then comes design and development. Once the higher authorities confirm the design, software development takes place. After the product is fully developed, the QA team verifies and validates it. Finally, after launching the product, the maintenance team constantly updates and enhances its functionality by releasing updates and new versions.
Advantages of Waterfall Methodology
Structured and straightforward approach.
Detailed documentation makes the information transparent.
Accurately plan release date.
Disadvantages of Waterfall Methodology
All requirements need to be known, which will delay the project.
It is not flexible, and changing features or functionality becomes difficult.
Testing comes last, which makes detecting and fixing bugs slower.
Use Cases of Waterfall Methodology
You can use the waterfall testing methodology on any straightforward project with clearly defined requirements — for example, Human Resource Management Systems, Inventory Management Systems, Supply Chain Management Systems, etc.
2. Agile Methodology
Like the Agile development methodology, which breaks larger tasks into smaller and doable tasks, the Agile testing methodology also focuses on testing smaller, specific tasks rather than larger chunks. That, in turn, fosters more efficient working and delivering quality software. With changing market trends, evolving requirements, and complex applications, Agile methodology is ideal as it provides flexibility in testing the application. Agile facilitates incorporating new features and functionalities anytime based on customer expectations and business requirements.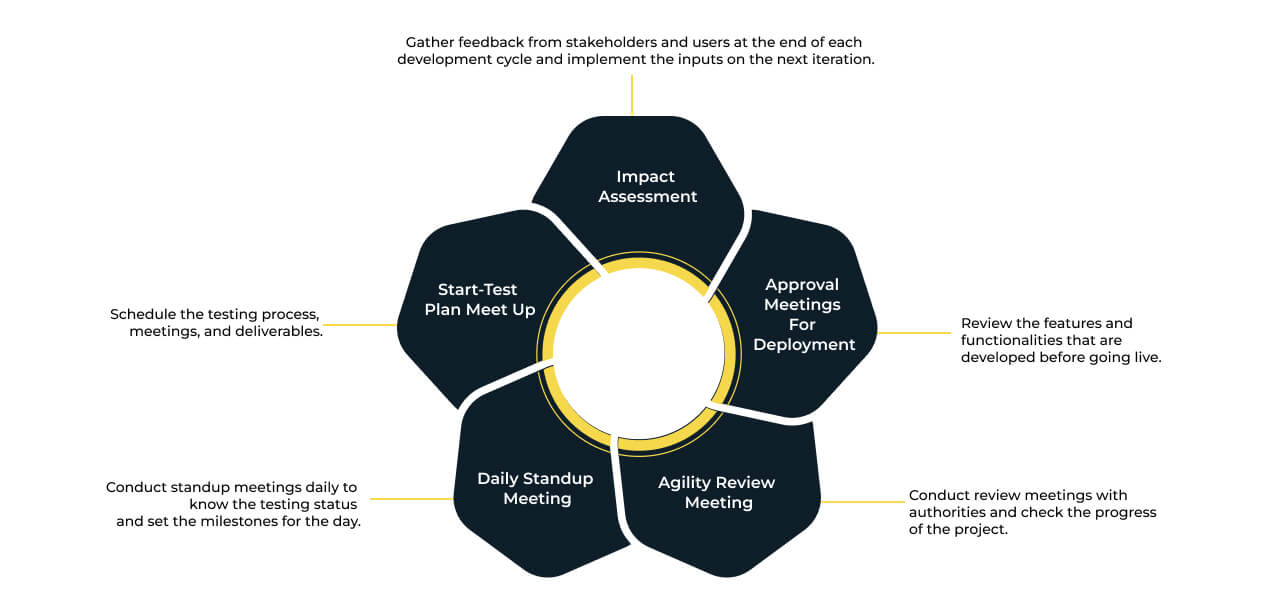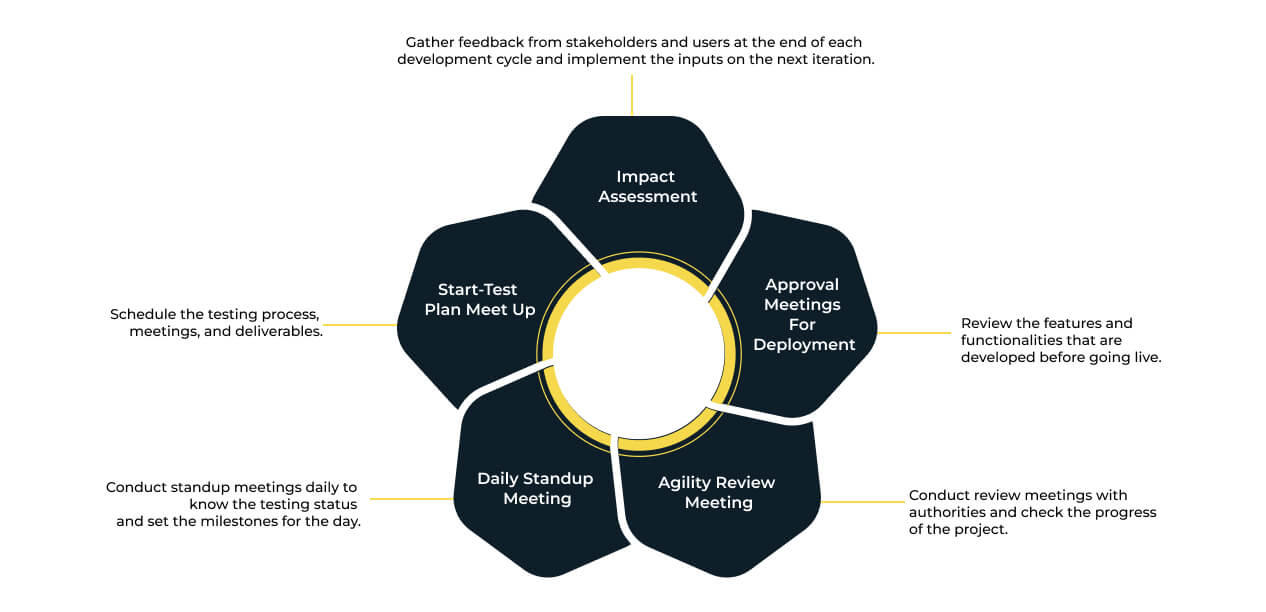 Testing Approach
Agile emphasizes the importance of testing early and often. Hence, continuous testing is done in iterations throughout the development process whenever a new feature is introduced. Early testing will help you detect and fix bugs faster and deliver sooner, saving you time and money. Also, Agile methodology is ideal for modern and trending projects that demand constant adaptation of new technologies and features based on evolving trends.
Advantages of Agile Methodology
Better internal collaboration leads to successful products exactly meeting the client's requirements.
Continuous and repeated testing minimizes the changes and, thus, costs.
Constant enhancement of product quality and customer satisfaction.
Disadvantages of Agile Methodology
Less predictability.
Lack of documentation.
Constant changes make a difficult maintenance process.
Use Cases of Agile Methodology
Agile testing methodology is ideal for projects with frequently changing scopes. For example, a new feature or functionality is constantly added to improve the application.
3. Iterative Development Methodology
The iterative development methodology breaks the development process of developing a large project into smaller parts. Each part is known as iteration, where every component undergoes a series of testing cycles. You can add new features and functionalities and test them simultaneously until the final product is ready to be deployed to customers.
Testing Approach
The iterative development methodology focuses on testing small parts of the large product. Thus, every iteration went through the detailed planning, designing, and testing process, ensuring a quality software product. You can get feedback from stakeholders after every iteration and improve the product's functionality. The iterative methodology is ideal for applications with ever-changing requirements.
Advantages of Iterative Development Methodology
Step by step development process ensures a high-quality product.
Availability of reliable feedback.
Flexibility and adaptability.
Disadvantages of Iterative Development Methodology
Each iteration phase is rigid, with no overlaps.
A slight deviation in planning may lead to potential losses.
Use Cases of Iterative Development Methodology
When the project is big and too complex, it is ideal to use an iterative methodology—for example, SaaS applications.
4. Verification and Validation Methodology
An advanced version of the waterfall methodology, the verification and validation method encourages testing after the completion of each development phase. Since validation and verification testing is done simultaneously with coding, it will help with the early detection of bugs.
Testing Approach
The image illustrates the V-methodology precisely. As you can see, the model starts with requirement analysis, design, and development. Though it follows a systematic approach like the waterfall model, the testing is done here at every development phase. The verification and validation process ensures that the right product is developed, meeting all the requirements. Once the product is fully developed, various testing like unit, integration, system, and user acceptance tests are carried out to ensure high quality and bug-free product.
Advantages of Verification and Validation Methodology
Early detection of bugs.
Practical and cost-effective approach.
Systematic and easy-to-follow procedure.
Disadvantages of Verification and Validation Methodology
It is not suitable for large and complex projects with changing requirements.
Rigid and not flexible.
Since software development happens during the implementation phase, no early prototypes are available.
Use Cases of Verification and Validation Methodology
The V-methodology is ideal for all small projects with clearly defined objectives — an appointment scheduler app for a medical facility, a grocery store app, etc.
5. Rapid Action Development Methodology
Rapid Application Development (RAD) methodology is known for its flexibility and can create and deploy software applications faster. The RAD method is ideal for projects with evolving changes like new features, functionalities, and updates. RAD method focuses on developing and building a prototype rather than planning and documenting. Once the prototype is ready, further iterations are carried out based on the end-user reviews.
Testing Approach
As the above image depicts, the RAD methodology follows five steps. The first phase involves analyzing the business requirements and creating an outline. Once the outline is formed, relevant data is collected according to the business requirements. The third phase, process modeling, converts data into defined business objectives and client feedback. Then the application generation phase involves coding and creating prototype models. Finally, each prototype is tested to detect errors and build better software applications.
Advantages of RAD Methodology
Flexible model, open to new requirements.
Prototypes reduce the overall development time.
Implementing feedback paves better customer satisfaction.
Disadvantages of RAD Methodology
It is not suitable for smaller projects.
The model demands technically sound developers and designers.
Reduced scalability as the RAD method begins with a prototype.
Use Cases of RAD Methodology
The RAD method is ideal for projects that need to be done in less time, and you have the budget to afford technical expertise and tools.
6. Spiral Methodology
The Spiral Methodology follows a systematic approach like a waterfall model but with iterative software development. A prototype is built at the end of each phase as a risk management strategy.
Testing Approach
As the image illustrates, the spiral model comprises four quadrants. The first phase involves collecting and analyzing customer requirements. Then comes the next step analyzing possible risks and resolving them promptly. The third phase is new product development, which focuses on developing an updated product version with new features. The last stage allows the end customers to review the latest version of the product and ask for feedback to create the next version accordingly.
Advantages of Spiral Methodology
It enables you to conduct risk analysis effectively.
It encourages you to incorporate changes even at later stages.
Disadvantages of Spiral Methodology
It is not suitable for smaller projects as it is quite expensive.
The model highly demands technical expertise.
Use Cases of Spiral Methodology
Spiral Model is ideal for large and complex software development projects.
7. Extreme Programming (XP) Methodology
Extreme Programming (XP) focuses on constantly improving software quality in response to customer feedback. The model emphasizes learning from previous project experiences and incorporating the best practices that worked well.
Testing Approach
First is the planning phase, where the technical team understands the customer requirements and prepares a software requirement specification document with the help of the business analyst team. Next is the designing phase, which focuses on creating a straightforward and precise design based on the requirements. Then comes the coding stage, which involves following the best coding practices and developing comprehensive code for the project. The product then undergoes unit, integration, and acceptance testing in the testing phase to ensure the expected results. Finally, as per the XP methodology, it's all about incorporating customer feedback and enhancing product quality in the next iteration.
Advantages of XP Methodology
Customer feedback fosters the building of a quality product.
A highly flexible model that allows incorporating evolving requirements readily.
Simplicity in design and implementation reduces complexity.
Disadvantages of of XP Methodology
It demands constant customer feedback throughout the project.
Design often takes the back seat in XP methods.
Use Cases of of XP Methodology
The XP method is ideal for small, web, and collaborative projects as the iterative development process requires constant collaboration between developers and customers.
Which Software Testing Methodology to Choose?
Software testing is not something that is a one size fits all process, as it depends on various factors. Thus, consider the following factors while choosing the testing method.
1. Keep an eye on your resources
The testing methodology depends on the availability of your resources. For instance, a typical software testing process will take around six weeks based on the software's complexity and the budget you can afford. Choose the testing methodology that best fits your project requirements, schedule, and budget.
2. Consider your test objectives
Though testing aims to deliver bug-free software with the intended functionalities, testing methodologies vary with specific objectives. For instance, some testing methods are better for reviewing code, whereas others are better for validating user experience, behavior, and performance. Considering these factors will help you finalize a testing approach that better suits your needs.
3. Client and business requirements
Considering the customer and business requirements must be the top priority while carrying out the testing process. A tailored customer-oriented testing approach can help the QA team better find the possible bugs and address the customer's needs. Thus, the end product is not only bug-free and functional but also in line with the client's requirements and customer satisfaction.
4. Bring in the expertise
Software testing demands different nuances and skills than that of software development. Hence, a dedicated testing team is highly recommended to develop quality software. Moreover, if the project is more complex, bringing in the testing expertise or outsourcing it to a third-party testing company will help you choose the perfect testing methodology and, thereby, better results.
How to set up Software Testing Methodologies?
Setting up software testing methodologies can be straightforward by considering the following points:
1. Define the testing scope
Rather than defining general requirements, be precise and define clear objectives. Detail the project goals, the customer expectations, and the client's views. Then figure out the testing methodology that fits the purpose. Be it waterfall, agile, V-model, etc.
2. Establish the testing procedure
Invest time and prepare detailed testing documentation, listing test cases, defect reports, and other documentation needed to maintain consistency and effectiveness in the testing process. Plus, it will help your QA team for a quick reference.
3. Workout a test plan
Create a comprehensive test plan that summarizes the testing strategy, objectives, and test cases, along with a stipulated timeline and resources required.
4. Analyze test results
Execute every test case in the test plan and document the results. Analyze the test results to identify defects and bugs, categorize them based on severity, and prioritize them for resolution.
5. Continuous testing
Testing is often an iterative process and not a one-time process. A newly added feature or functionality can alter the entire system, and thus testing it at regular intervals is mandatory. Continuous testing can help improve product quality, ensuring customer satisfaction.
How Does OpenXcell Help With Testing?
With more than a decade of experience in the IT industry, OpenXcell has gained unmatched expertise in providing comprehensive software testing solutions. Right from understanding client's requirements, up to date with market trends, and overview of customer expectations, our testing team is well-equipped with the latest technologies and infrastructure to take it ahead for you. Our QA engineers are experts in specialized testing, ensuring that data, services, and applications are validated end-to-end.
Conclusion
Testing is an integral part of the Software Development Lifecycle (SDLC) as it verifies and validates the requirements, functionalities, and intended output of the software. With evolving client requirements and market trends, just like the software development process advances, the testing methodologies must also be robust to deliver high-quality software. Hiring QA engineers from a reputed software development firm ensures you provide high-quality software that meets clients' requirements and exceeds customer expectations.
DETAILED INDUSTRY GUIDES
https://www.openxcell.com/devops/
What is DevOps? A combination of cultural philosophy, practices, and tools that integrate and automate between software development and the IT operations team.